PLAY LACROSSE AT POYNTON ...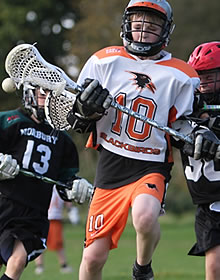 Poynton Lacrosse Club is a friendly family-oriented club and we welcome new members. If you've never played lacrosse before, or if you are thinking of returning after a break away from the sport, please feel free to get in touch or come down to a game or training session to find out more.
What you need to start
In order to play or train all players must have gloves, helmet and chest protection. If you are a beginner and don't have any lacrosse equipment of your own, the club has equipment which you can borrow. For training on Astroturf, tennis shoes or trainers are suitable. Matches are held on grass pitches where studs are needed and football or rugby boots are suitable.
Junior Training & Matches
Junior lacrosse training is held on Wednesday evenings on the Astroturf court at Poynton Sports Club, usually starting at 5.00pm for our youngest members. Matches take place each Saturday throughout the season which runs from late September to April. Games alternate between home and away fixtures and usually start ('face-off') at 10am. Home games are played on our pitches at the Sports Club.
Our coaches are mainly experienced players and ex-players and are committed to providing quality coaching in a relaxed and encouraging style. Unlike many other ball games, lacrosse suits players of all sizes, and skill is more important than physical strength, giving all players an equal chance to excel on the field. In junior games, all players will get the chance to take part in games as soon as they feel comfortable.
The club has an English Lacrosse Association approved Child Protection Policy in place, full details of which are available for you to download
Senior Training & Matches
Senior Training is also held on Wednesday evenings with matches played on Saturday afternoons. Usual face-off time for senior games is 2.00pm. We currently have two adult teams and we welcome new players of all abilities and experience!
Both Junior and senior players compete in the North of England Men's Lacrosse Association (NEMLA) Leagues.
Club Membership
Poynton Lacrosse Club fees are payable annually and also include registration with the English Lacrosse Association (ELA) and membership of Poynton Sports Club. The current fees are £60 for juniors and £168 for adult players. Training fees are £1 per session, payable in advance (at a reduced rate of £20 for 26 weeks) or on a week-by-week basis.
Find out more!
If you have any questions or require further information, please contact Karen Robinson or you can telephone her on 07778 645197
We look forward to meeting you!