Poynton Lacrosse Girls Teams ...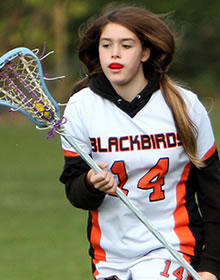 In recent seasons Poynton have embarked on the development of a Girl's lacrosse programme. This is a new section within the club and one which is already proving very successful. Currently fielding a squad in the Under 13's age group in the North West League, we welcome new players from age 7 upwards. There are also regular opportunities for players under the age of 11 to participate in ELA organised development tournaments which are a great introduction into competitive lacrosse. We hope in future to be able to field an Under 15's team and eventually a Women's Senior team.
In the UK, lacrosse is a Winter sport, the season beginning in September and running through until April. Games are played on Sunday mornings.
Girls lacrosse is fast, very skillful and full of excitement. At Poynton we welcome beginners of all ages and take pride in offering a safe, friendly environment with qualified coaches where players can develop their skills at their own pace. If you would like to find out more, or arrange to come along for a 'taster' session, please contact Karen Robinson by e-mail here.
PLEASE NOTE: After a long absence due to Covid-19 we are very pleased that our girls team is now back in action.
Unfortunately, under the current RETURN TO PLAY guidelines, spectaors are currently not permitted to attend fixtures that take place on private land other than those who are parents of players aged under 18. As soon as we are able to welcome spectators back we will update these fixtures.
Our Under 8's/10's are back training in a new Spring/Summer extended season. For more information, dates, times etc. please contact info@poyntonlacrosse.co.uk